HOW WE DID IT
Many our clients that have trained at Core Body FX over the years and have changed their life forever. Take a look at some of the amazing transformations and hear about their incredible stories.
Lynette Stone DeClue
After giving birth to my twins, I found myself at 175 pounds and unable to lose any weight. I was tired, miserable, and weighed more than I thought I ever would. I started exercising and watching my diet and the weight began to slowly melt away. I started training with Frankie Long at Core Body FX and began to see my body shape change. Muscle tone began to develop, and I had a lot more energy.
During this time, I also developed a love of fitness. I knew I never wanted to be without it again. I got certified as a personal trainer and have my own clients now, sharing with them the love of health and fitness. Sometimes I look back and recall how miserable and hopeless I felt being so heavy. I never imagined I could be where I am today. When you decide to change, and stick with it, the possibilities are endless. You can be anything you want to be.
Weight Lost: 40 pounds
Gary Tanner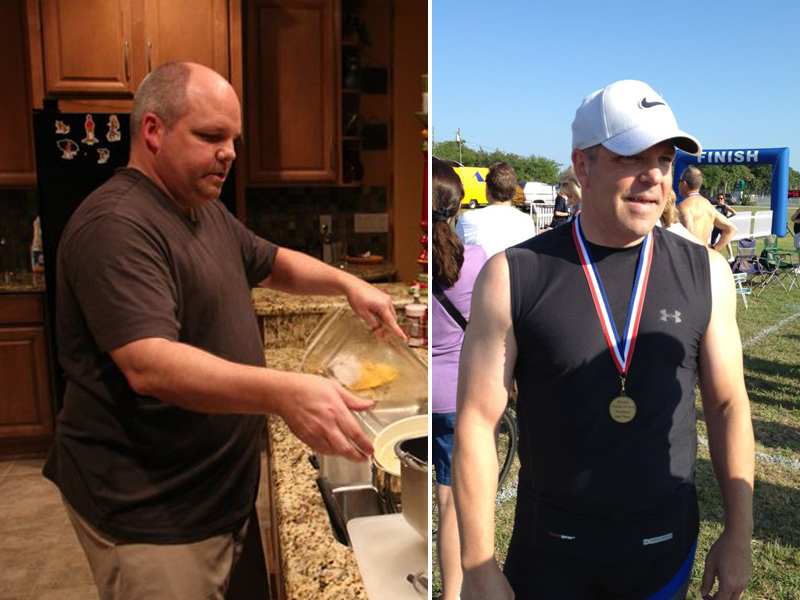 Several years ago, I was the largest I had ever been and desperate to find a solution to my health and weight issues. My before photo was taken after I was about four months into training at Core Body FX. They worked with me on weight training, guided me with my nutrition, and showed me the importance of living a healthier lifestyle. They encouraged me to take part in extra activities, such as 5k runs. Just recently, as the second photo shows, I took part in my very first triathlon. I knew I would be very happy to just finish it. As it turned out, I came in second place in my age group and finished 16th place overall. Two years ago, that would have been impossible for me.
I've gained a ton of muscle and gone from a 42-pant size to a 33! I continue to get many compliments on my success! The truth is, it's been a combination of self-determination, and the support of the wonderful team at Core Body FX.
Weight Lost: 65 lbs.
Chandra Allen
Weight loss has always been a part of my life because being overweight is something I have always struggled with.  I remember not being involved in athletic things because I felt like I was not capable, not to mention how uncomfortable I always felt around others about how I looked. I had tried every type of diet that had been on the market, but very little worked.
In 2009, my life had changed. I was introduced to Frankie Long at Core Body FX. I began my first training session and was amazed what a real workout looked like. It was both challenging and difficult. I had always thought working out with a trainer was impossible because I wasn't athletic, I couldn't afford it. There were lots of excuses that I had for why that was out of my reach, but I found that it was within my reach and I am amazed at the results. I am proud of how far I have come and will continue to work hard to get to my next goal.
Weight Lost: 42 pounds
Leilani Miller
Over 4 years ago, a friend recommended I check out Core Body FX. I was in an overweight and sick condition, battling diabetes and depression. I was taking no less than 8 different medications on a routine basis! I knew I had to do something about my health and eating habits but didn't know where to start.
I finally decided to join Core Body FX to get my life back on track. Frankie Long customized an eating plan and exercise regime that suited my lifestyle. Within my first 6 months, I lost 20 pounds and 2 dress sizes! With Frankie's help, I reached and have maintained my ideal weight and clothing size. I went from size 14 in pants to a size 6. My A1C went from 7.2 to 5.9, and I am currently taking only 2 medications. I can honestly say, Frankie Long and Core Body FX has saved my life.
Weight Lost: 50 pounds
Tonya Dixon
Prior to joining Core Body FX, I was in the worst shape of my life. I made up every excuse in the book not to work out or even make better decisions when it came time for meals. But I finally came to a crossroads in which either I make the change or suffer some serious health consequences.
When I finally came to Core Body, Frankie set me up on a steady work out routine that was very tough, but I pushed through it week after week the best I could. Frankie patiently guided me through every exercise program and put me on a strict diet that I wasn't quite used to. It wasn't long before I started seeing huge results in my waist. I had lost a considerable amount of weight and lost 30 inches in my waist. I owe it all to Frankie and the team at Core Body FX.
Weight Lost: 60 pounds
Tim Salerno
Several years back, I was on the hunt for a personal training facility in the Apopka, Florida that could really help me with my quest for a happier and healthier me. I was really overweight and had very little energy during the day at work or at night. A friend recommended Core Body FX to assist me in goals.
Frankie Long at Core Body immediately got me set up on a weekly workout routine. The intense fitness program consisted of a great deal of cardio, weights, and core exercises. After the first 30 days, I had already started losing weight, feeling better and had way more energy. Ultimately after training with Frankie for 90 days, I had lost 30 inches in my waist which was an amazing accomplishment for me. I would recommend Core Body to anyone looking to make real changes in their health.
Weight Lost: 30 pounds