Special Events
From time to time we conduct special events in and around the central Florida area, so please check back often for upcoming events. Also, if you have a question or comment about anything regarding our site or about health & fitness in general, please do not hesitate to drop us a line at 407-880-5555 or send us an email at info@corebodyfx.com. We would love to hear your comments…good or bad.
Helpful Industry Links
Below you will find important links to some of the best resources online regarding physical fitness, health, and nutrition. Please take a moment and visit some of these helpful sites. During your web-universe exploration, if you happen to come across a great site, send us the link and we just might add it to our unique list. Happy surfing!
Nutritional & Skincare Products
AdvoCare is a premier health and wellness company offering more than 70 exclusive nutritional and skincare products and a business opportunity that empowers individuals to explore their ultimate potential.  With AdvoCare, you can experience positive life changes in your health, your hope, and your future.
Health & Fitness
Fitness.gov is the health, physical activity, fitness and sports information website of the President's Council on Physical Fitness and Sports. You can find out about the Council and its work, view our publications, and link to the resources of other government agencies as well as to health and fitness organizations.
Healthier US.GOV
This Web site is part of a broad presidential agenda designed to help Americans, especially children, live longer, better, and healthier lives. The site provides credible, accurate information to help Americans choose healthier habits.
National Association of Health & Fitness
The National Association for Health and Fitness (NAHF) is a non-profit organization that exists to improve the quality of life for individuals in the United States through the promotion of physical fitness, sports, and healthy lifestyles.
Fitness Day
Featuring national health and fitness events from the Mature Market Resource Center and Health Information Resource Center. Also features helpful links to Women's Health & Fitness Day as well as Family Health & Fitness Day. 
Trade Shows

National Fitness Trade Show
One of the longest running trade shows in the industry, the National Fitness Trade Show features top fitness equipment from leading manufacturers, along with the products and services you need to make your business more successful.
Health & Fitness Business
The Health+Fitness Business Expo & Conference is the event where brands are launched, innovations are unveiled and connections are made in the fitness industry.
Club Industry's Fitness Business Pro
Club Industry's Fitness Business Pro is dedicated to providing a complete list of educational events, trade shows, and other industry-related events for fitness professionals and health club owners and operators.
Sed elementum dapibus tellus, a dictum metus interdum ac. Nullam condimentum, dui olutpat fringilla molestie, libero tortor ultrices lorem, at tempus diam purus non velit. Aliquam vel nulla eleifend, consequat elit id, tristique massdolor velit, blandi.Sed elementum dapibus tellus, a dictum metus interdum ac. Nullam condimentum, dui olutpat fringilla molestie, libero tortor ultrices lorem, at tempus diam purus non velit.
WHAT CLIENT'S SAY
Lindsie Fann
"I've known Frankie as a Personal Trainer for over 12 years and started working out with her most recently at 18 weeks pregnant. I am now 22 weeks pregnant and feel amazing! She is extremely knowledgeable and modifies workouts as needed for every person's season of life. The workouts are not only amazing and efficient but keep you accountable and feeling stronger than you arrived! I highly recommend Core Body FX!"
Jennifer Cicia
"I started working out with Frankie in January 2019. Since we started, I have lost over 32lbs and went from a size 10 to a 4 in pants. More importantly though, I have become so much stronger. I can lift heavier and work out harder than I ever could in my life, and I've gained so much self confidence in what I can do. Frankie is supportive and pushes me to keep improving. I would recommend Core Body FX to anyone that wants to make changes to their body, confidence or even just looking for a motivating and fun environment to work out."
AJ LaSota
"Core Body FX is a fun place to take fitness seriously! Frankie Long is the gold standard in living a healthy lifestyle. All the personal trainers at Core Body FX are experienced professionals that can guide you to a "better you"! Personal attention designed to meet your fitness goals is distinctive. Go to the website and contact Frankie for a test drive. You will be glad you did."
Dale Hodson
"I don't know where to start. There are so many wonderful things about Marianna Coker. She is the best personal trainer I have ever had. She is so well balanced and patient, it's unreal. Marianna is one of the most knowledgeable personal trainers and nutritionists I have ever had the pleasure to work with. Mariana has changed my life in more ways than one. If you are looking for an amazing trainer and a top- level fitness guru, Marianna is your choice. I would have it no other way. May the force be with you!"
Lynette Stone DeClue
After giving birth to my twins, I found myself at 175 pounds and unable to lose any weight. I was tired, miserable, and weighed more than I thought I ever would. I started exercising and watching my diet and the weight began to slowly melt away. I started training with Frankie Long at Core Body FX and began to see my body shape change. Muscle tone began to develop, and I had a lot more energy.
During this time, I also developed a love of fitness. I knew I never wanted to be without it again. I got certified as a personal trainer and have my own clients now, sharing with them the love of health and fitness. Sometimes I look back and recall how miserable and hopeless I felt being so heavy. I never imagined I could be where I am today. When you decide to change, and stick with it, the possibilities are endless. You can be anything you want to be.
Weight Lost: 40 pounds
Gary Tanner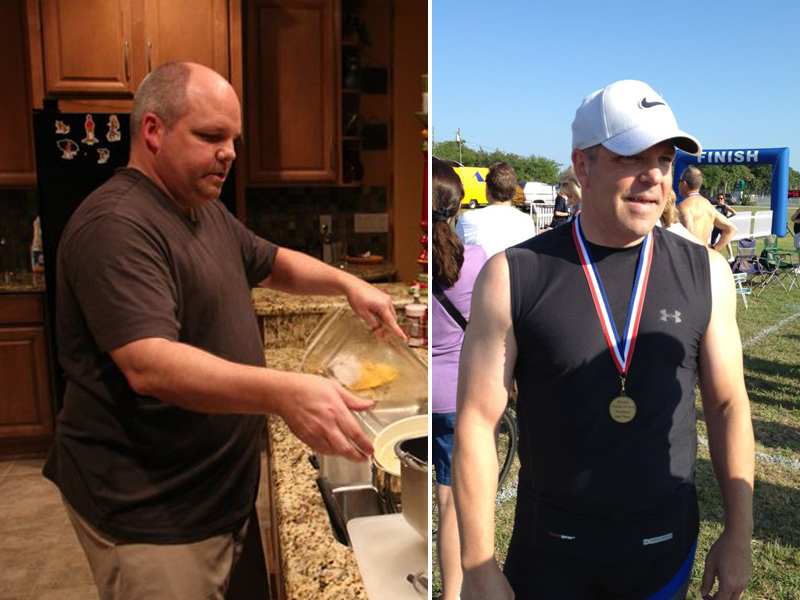 Several years ago, I was the largest I had ever been and desperate to find a solution to my health and weight issues. My before photo was taken after I was about four months into training at Core Body FX. They worked with me on weight training, guided me with my nutrition, and showed me the importance of living a healthier lifestyle. They encouraged me to take part in extra activities, such as 5k runs. Just recently, as the second photo shows, I took part in my very first triathlon. I knew I would be very happy to just finish it. As it turned out, I came in second place in my age group and finished 16th place overall. Two years ago, that would have been impossible for me.
I've gained a ton of muscle and gone from a 42-pant size to a 33! I continue to get many compliments on my success! The truth is, it's been a combination of self-determination, and the support of the wonderful team at Core Body FX.
Weight Lost: 65 lbs.
Chandra Allen
Weight loss has always been a part of my life because being overweight is something I have always struggled with.  I remember not being involved in athletic things because I felt like I was not capable, not to mention how uncomfortable I always felt around others about how I looked. I had tried every type of diet that had been on the market, but very little worked.
In 2009, my life had changed. I was introduced to Frankie Long at Core Body FX. I began my first training session and was amazed what a real workout looked like. It was both challenging and difficult. I had always thought working out with a trainer was impossible because I wasn't athletic, I couldn't afford it. There were lots of excuses that I had for why that was out of my reach, but I found that it was within my reach and I am amazed at the results. I am proud of how far I have come and will continue to work hard to get to my next goal.
Weight Lost: 42 pounds
Leilani Miller
Over 4 years ago, a friend recommended I check out Core Body FX. I was in an overweight and sick condition, battling diabetes and depression. I was taking no less than 8 different medications on a routine basis! I knew I had to do something about my health and eating habits but didn't know where to start.
I finally decided to join Core Body FX to get my life back on track. Frankie Long customized an eating plan and exercise regime that suited my lifestyle. Within my first 6 months, I lost 20 pounds and 2 dress sizes! With Frankie's help, I reached and have maintained my ideal weight and clothing size. I went from size 14 in pants to a size 6. My A1C went from 7.2 to 5.9, and I am currently taking only 2 medications. I can honestly say, Frankie Long and Core Body FX has saved my life.
Weight Lost: 50 pounds
Tonya Dixon
Prior to joining Core Body FX, I was in the worst shape of my life. I made up every excuse in the book not to work out or even make better decisions when it came time for meals. But I finally came to a crossroads in which either I make the change or suffer some serious health consequences.
When I finally came to Core Body, Frankie set me up on a steady work out routine that was very tough, but I pushed through it week after week the best I could. Frankie patiently guided me through every exercise program and put me on a strict diet that I wasn't quite used to. It wasn't long before I started seeing huge results in my waist. I had lost a considerable amount of weight and lost 30 inches in my waist. I owe it all to Frankie and the team at Core Body FX.
Weight Lost: 60 pounds
Tim Salerno
Several years back, I was on the hunt for a personal training facility in the Apopka, Florida that could really help me with my quest for a happier and healthier me. I was really overweight and had very little energy during the day at work or at night. A friend recommended Core Body FX to assist me in goals.
Frankie Long at Core Body immediately got me set up on a weekly workout routine. The intense fitness program consisted of a great deal of cardio, weights, and core exercises. After the first 30 days, I had already started losing weight, feeling better and had way more energy. Ultimately after training with Frankie for 90 days, I had lost 30 inches in my waist which was an amazing accomplishment for me. I would recommend Core Body to anyone looking to make real changes in their health.
Weight Lost: 30 pounds
Janice Payne
"I have been a member of Core Body FX since 2016 working with Frankie Long on a weekly basis. She brings an amazing amount of knowledge and passion about health and fitness. I am defiantly someone that needs to be pushed to reach my fitness goals and she does that with great motivation and truly cares about each of her clients. I cannot say enough good things about the positive impact Core Body FX has had on my life. I can see the difference in my appearance, lost weight and inches, built muscle, and best of all I feel great about myself. I've experienced a lot of gyms and trainers over the years but by far this has been my best experience."
Marlene LaSota
"I have been training at Frankie's gym for over a year now. Frankie is a fantastic trainer and always a lot of fun training at Core Body FX. I have increased my muscle mass, love my new improved shape. Overall great experience which I will continue for many years to come."
Leilani Miller
"Over 4 years ago, I came to CoreBodyFX overweight and sick, battling diabetes and depression. I was taking no less than 8 different medications! I knew I needed to exercise and eat right but didn't know where to start. Frankie customized an eating plan and exercise regime that suited my lifestyle. Within my first 6 months, I lost 20 pounds and 2 dress sizes! With Frankie's help, I reached and have maintained my ideal weight and clothing size. I went from size 14 in pants to a size 6! I can honestly say, Frankie Long and CoreBodyFX have saved my life!"
Heike Corbin
"The classes at Core Body FX are amazing. Each class is different and challenging. They encourage to push yourself to your own personal limits but always provide options for each exercise depending on your level of fitness. I like that they make sure everyone has the correct form, stay's consistent, and motivated. I can't say that about any other gym I have been to. All instructors are great and very supportive as is everyone else in the class. The atmosphere is always fantastic, and everyone is super friendly."
Tanya McNeill
"At Core Body FX, the classes are amazing, and they keep me in shape physically, mentally, and emotionally. There are always days I don't feel like going, but I still push myself. The boot camp classes have definitely improved my energy and have changed my life for the better. Thank you, Frankie!"
Jennifer Metevier
"Training with Core Body FX has been a great experience for me. The trainers and classes challenge me. Since becoming a member 5 years ago, I've added strength, muscle and endurance. Frankie is interested in my individual fitness goals. All the Staff at Core Body are knowledgeable, helpful and encouraging. The atmosphere at Core Body FX is amazing and it's a great place to work out."

Payton Montague
"I trained with Frankie at Core Body FX for over ten years. Let's just say training with Frankie saved my life and kept me in the fight of life. My confidence, my zest for life, my ability to deal with life emotionally and physically were all a result of physical training with Frankie. The best investment I could make in me was an investment in Frankie!"

Michele Decaul
"Since working out with Frankie at Core Body FX, I feel absolutely amazing! I actually look forward to working out weekly. As a result, I am stronger, more toned, aware of what I eat, and more confident in what I wear!! Thanks Frankie!"